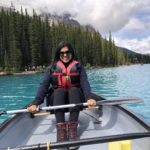 Dr. Shirley Parikh was born and raised in Houston, Texas and is The University of Houston alumna.  She loves the Bayou City and made Houston her forever home after graduating from Texas A&M Health Science Center, Baylor College of Dentistry in 2008.  Dr. Parikh has been in practice for more than a decade and settled in the Rice Military neighborhood in 2012.
She fell in love with dentistry as a career when she realized that it would fulfill all of her talents and passions.  Science and an eye for design were key.  You really need an eye for esthetics if you're going into smile design.  She is a Fellow in the Academy of General Dentistry and on her way to earning Mastership later this year.  This means that she has taken thousands of hours over the required continuing education requirements and passed a stringent exam.
She lives in the lovely Oak Forest neighborhood just a few miles from the practice.  She believes in whole body health including nutrition, mental, emotional and spiritual well being.  She is currently training for the 2020 Chevron Marathon and can be seen around Memorial Park or a local treadmill studio.  She is also a yogi and a Peloton fan.
If she's not talking "teeth", on a treadmill or on her bike then she must be on a plane headed somewhere.  She believes in showing her children the world and their latest trip included Banff National Park, Vancouver and Seattle.
Meet our Treatment Coordinator
Meet our Registered Dental Hygienist
Heydy has a wealth of knowledge and has been in the dental field for 7 years. She is married and a mother of two boys.  She enjoys spending time with her family in the outdoors or catching her son's basketball games.
Mushkie is the most gentle hygienist you will meet.  She is originally from Pittsburgh and she married a Houstonian and moved to the city. She has been a hygienist for over 3 years.  She loves her family time and they spend most weekends at a big family dinner.