Welcome to the office of Dr. Shirley Parikh and Bristles Family & Cosmetic Dentistry.
Bristles Family & Cosmetic Dentistry is a state-of-the-art dental practice providing comfortable comprehensive dentistry with an experienced team.  We are conveniently located in the heart of the Houston. Nestled between Downtown, River Oaks, Memorial Park and the Houston Heights.  We enjoy treating the whole family, it allows for continuity and comprehensive care.
Preventive dentistry is the foundation of our work.  Keeping your smile and your overall health for a lifetime requires prevention and maintenance.  Our team provides routine cleanings, sealants, fluoride, SDF (silver diamine fluoride),  and desensitizing treatment. SDF (silver diamine fluoride) therapy arrests decay (cavities) while it's in the enamel. It is a new non invasive treatment that can eliminate the need for a traditional filling. We also offer Professional Kor in-office, Kor home whitening, Same-day crowns, Therapeutic Botox for Oral Facial Pain, Ozone treatment, and custom night guards.  Ozone therapy is used during routine and therapeutic cleanings to allow your body to heal optimally after your professional cleaning.
Dr. Shirley Parikh employs the latest advancements to provide her patients with excellent dentistry.  Digital radiographs reduce your radiation exposure by 90% and CADCAM technology allows us to deliver a permanent restoration within hours instead of weeks.  Dr. Parikh is conservative and always does her best to preserve natural tooth structure and prevent the need for root canal treatment by early intervention, ozone therapy and careful tooth removal.  Our CEREC cad cam technology provides us the opportunity to fabricate partial coverage restorations instead of a larger restoration like a crown. We have reduced the need for root canal therapy with careful excavation and ozone treatment to harden the tooth structure during treatment.
Our mission is to do the least amount of dentistry to achieve your desired results. We want to go above and beyond your expectations to delivery a great experience while we deliver excellent dental care. We have a deluxe comfort menu that includes nitrous sedation to relax while you're in treatment, warm blankets and neck pillows, watching a movie in your treatment suite, and lavender towelette and lip balm post-procedure.
Oak Forest Living Expert Contributor
Comfort menu to level-up your experience in our office
Ozone Therapy for Periodontal/gums and Teeth Restorations
Nitrous Sedation (laughing gas)
Therapeutic Botox for oral facial pain
Veneers
Professional Kor Whitening: Home and In-Office
Smile Makeover
Clear Aligners
Wisdom Teeth Removal
Pediatric Dentistry
CEREC CADCAM for same-day crowns
Different from most medical offices you will be seen on or before your appointment time.
Dr. Shirley Parikh has been practicing since 2008 when she earned her doctorate degree from Baylor College of Dentistry Texas A&M Health Science Center.  She opened Bristles Family & Cosmetic Dentistry in November 2012 at 701 Shepherd Drive to serve the Houston community.  
We take great pride in providing an elevated experience to our patients. We value our relationships with our dental community and we love watching our Bristles babies grow.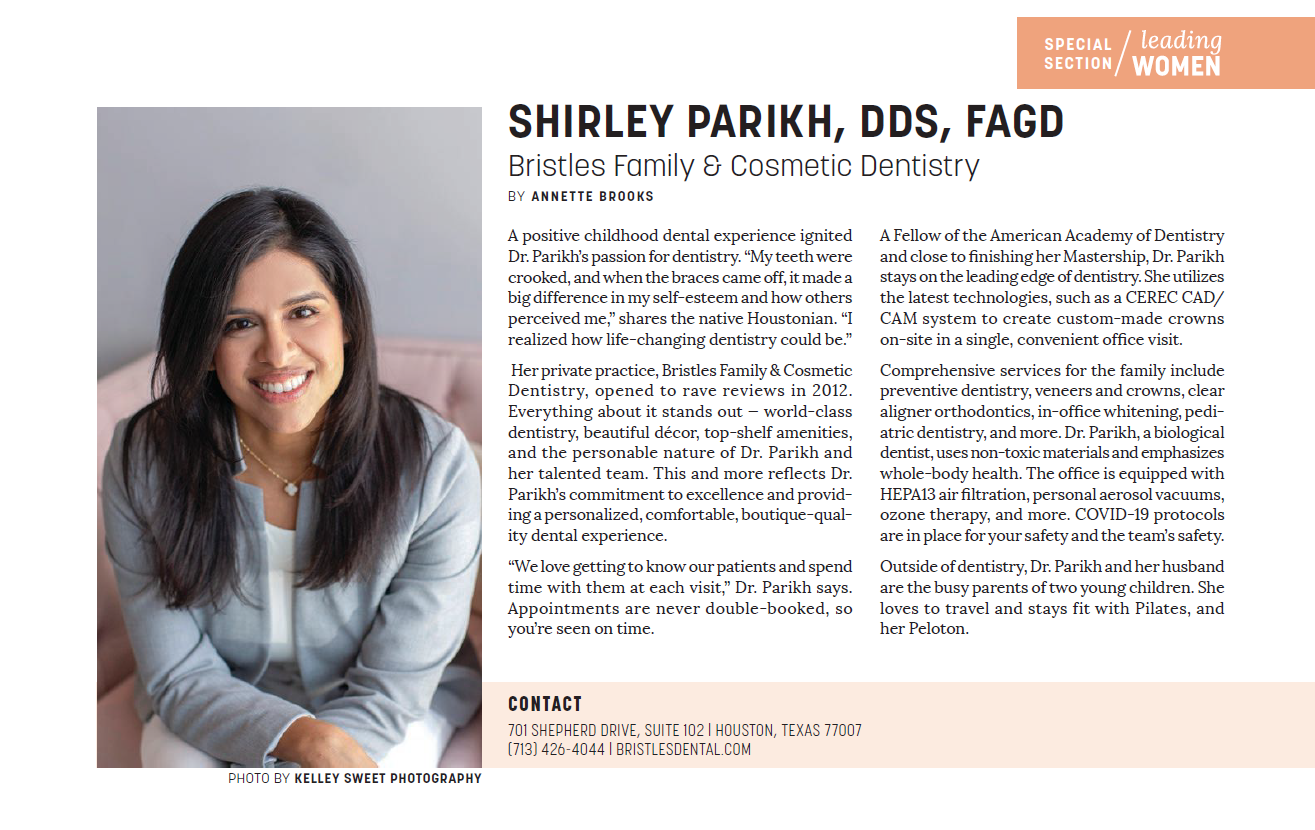 "Great service! Explained everything they did and walked me through any concerns I had. Will be returning!"

"I recently took my son for his routine check-up and found out that he has enamel hypoplasia on one of his adult molar. Well this molar ended up having a fairly large cavity despite having good dental hygiene. Dr. Parikh worked her magic and did an amazing job fixing his cavity with an inlay. Procedure took less then an hour and my baby came home super happy with a healthy and good looking tooth."
"Dr.Parikh's office is wonderful. The staff and Dr.Parikh have a calm demeanor that makes me feel comfortable during every visit. I highly recommend her office for anyone, but especially for anyone who may experience a bit of dental anxiety."
I LOVE Bristles! I have been to other places in town but this office is by far the best I have ever been to. The office itself is super nice, very welcoming and super clean. The staff is so friendly and nice, also very professional. Dr Parikh is such a great dentist and has taken such great care of me and my teeth for the past few years! I have sent about people to her and all of them are also loyal clients as well! You will not be disappointed!